Hello, my name is Vivian Cheah. I am a classical piano teacher from Singapore with over 20 years of teaching experience. I used to give piano lessons at a prestigious local music academy where my students included prize winners in international piano competitions, before leaving to focus on teaching private students on a full-time basis.
I specialize in coaching students from the ages 5 to 18 for the following –
Beginner's Preparatory Piano ABRSM Grade 1 to 8 and Diploma Theory ABRSM Grade 1 to 5
LINE
 – viviancheahpiano
Email
–
vivianchpf@gmail.com
Please Indicate
–
Student's age / Gender / Level interest
Note – I only teach from my home. I am situated at the Yio Chu Kang / Seletar area.
Valerie
"Teacher Vivian has been helping my daughter shape and polish her technique for 3 years. Under her guidance, my daughter has obtained a distinction for her grade 4 ABRSM exam and the first prize in the Singapore International Classical Piano Competition. She is very thorough in her piano lessons – introducing new pieces and giving clear, straight to the point instructions weekly. The other thing we like about her is that she doesn't make you feel bad about your mistakes; she is really there to help you. A teacher that has a skill to unlock student's potential and effective in teaching student at any level. She holds her students to a very high standard that does nothing short of setting them up for success in the piano world."
Valerie's Mom
Caesar
"Our son Caesar has taken piano lessons for about two years before we met Teacher Vivian. Within months under her guidance, Caesar demonstrated improvements in his finger and hand placement techniques, as well as confidence in performing challenging repertoires. A great mentor, teacher, and inspirational musician that Teacher Vivian is, our son is blessed with her patience, perseverance, and professionalism. We are glad that we found her!"
Caesar's Mom
First Prize Winner for 2017 International Classical Piano Competition, Junior Category A
Silver Award Winner for 2017 Singapore Asia Youth Piano Competition Finals
Min Quan
"Engaging and enjoyable lessons where musicality and techniques are taught in order to support various interpretations of the score. Teacher Vivian's teaching style is both personalized and personable. She also supplements lessons with relevant links and videos with the aim of promoting understanding and development. I believe children and adults alike, regardless of skill, will benefit from her piano lessons."
Min Quan
Timothy L Hombre
"I finished my grade 8 ABRSM in 2017 in my Secondary One year and took up music elective in my sec 3 year for O levels. My school teacher saw my potential in the subject and strongly advised that I should take my piano studies to a more advanced level with a piano teacher who can guide me further.
We found Teacher Vivian and started lessons since July 2019.
It's been almost 30 lessons now and I can see improvements in:-
1) my finger technique when running scale-like passages and the appropriate hand-arm coordination to maintain a good flow and bring out the various emotions of the piece with confidence.
2) understanding and going beyond just playing the pieces to grasp the composer's style, the structure of the piece, instead of plainly playing according to the score,
3) the build up of my repertoire of pieces to include composers of different period and styles. This expands my horizon on the different eras of music.
Besides polishing up for my school exam pieces (which by the way I scored almost full marks for), we were able to work some works by other composers like Chopin and Schubert,
which were composers that I didn't have to chance to delve into in the past.
Teacher Vivian is very descriptive in her music lingo and would explain precisely the kind of tone quality that is required between different dynamic levels so that the style of the pieces I am playing could be best brought out out convincingly. She is professional and very helpful and I am able to excel under her positive influence.
Thank you for your excellent support, Teacher Vivian."
Timothy L Hombre
My Teaching Approach
My approach towards music tutelage emphasizes cultivating the student's interest in classical music and piano playing through building up a strong foundation in finger work, which will allow the student to continually level up and take on increasingly challenging musical pieces and eventually perform them not just at a technical level, but also at an emotive level. My students have achieved distinctions in piano exams and exemplary performance in national and international piano competitions.
A PROFESSIONAL TESTIMONIAL
Ms. Cheah and I have been working together since 1990. We have helped each other and also her students from their ABRSM graded examination to international piano competitions. Her students include prize winners of various international competitions and high scorers in the international Associated Board of the Royal Schools of Music (ABRSM) piano examinations.
I have found Ms. Cheah to be someone who is very responsible in her work. She takes the initiatives to find out much of piano pedagogy for herself and her students, often purchasing tutorial materials and going to Masterclasses on her own expenses just to better herself and her teaching skills. She is very careful in her teaching and has proven herself many times to be a very responsible teacher with proven track records of her students' achievements. Her experience includes teaching students with high talents to further their talents, helping them to realize their goals in winning competitions and getting study places to study piano and music in various international universities.
I enjoy working with Ms. Cheah and I recommend her highly to anyone who is looking for an excellent and responsible teacher to guide them / their children to the excellent art of good piano playing. Please feel free to contact me at +4916096741731 if you have further questions to this recommendation.
Thank you.
Chloe
"Chloe's journey in learning piano is definitely not a smooth one. As a typical 6 year old pre-schooler, she lacks the discipline to practice piano every day and often forgets about what she is taught.  Fortunately, Teacher Vivian is very patient and encouraging with Chloe. Her experience allows her to tailor the piano lessons according to Chloe's progress. Teacher Vivian is also very detail-oriented and a firm believer in building a strong foundation for the student – focusing on pulse and rhythm, finger positioning, wrist movement, etc. Such emphasis enables the student to build a solid foundation for piano."
Chloe's Mom
Shane
"Teacher Vivian has been an amazing guide to myself and Shane. It is extremely challenging trying to harness the musical talents of a highly inquisitive but precocious child who only wants to do what he wishes to do. Teacher Vivian has a way with him and he has shown improvements in his focusing and listening skills. She communicates and works closely with us as to how to bring his piano playing skills up another level. She is a very patient and experienced teacher- skills that are invaluable when it comes to guiding young and easily distracted boys. She puts much emphasis on discipline and technique. We are looking forward to having Shane go the distance in his musical journey with the help of Teacher Vivian."
Shane's Mom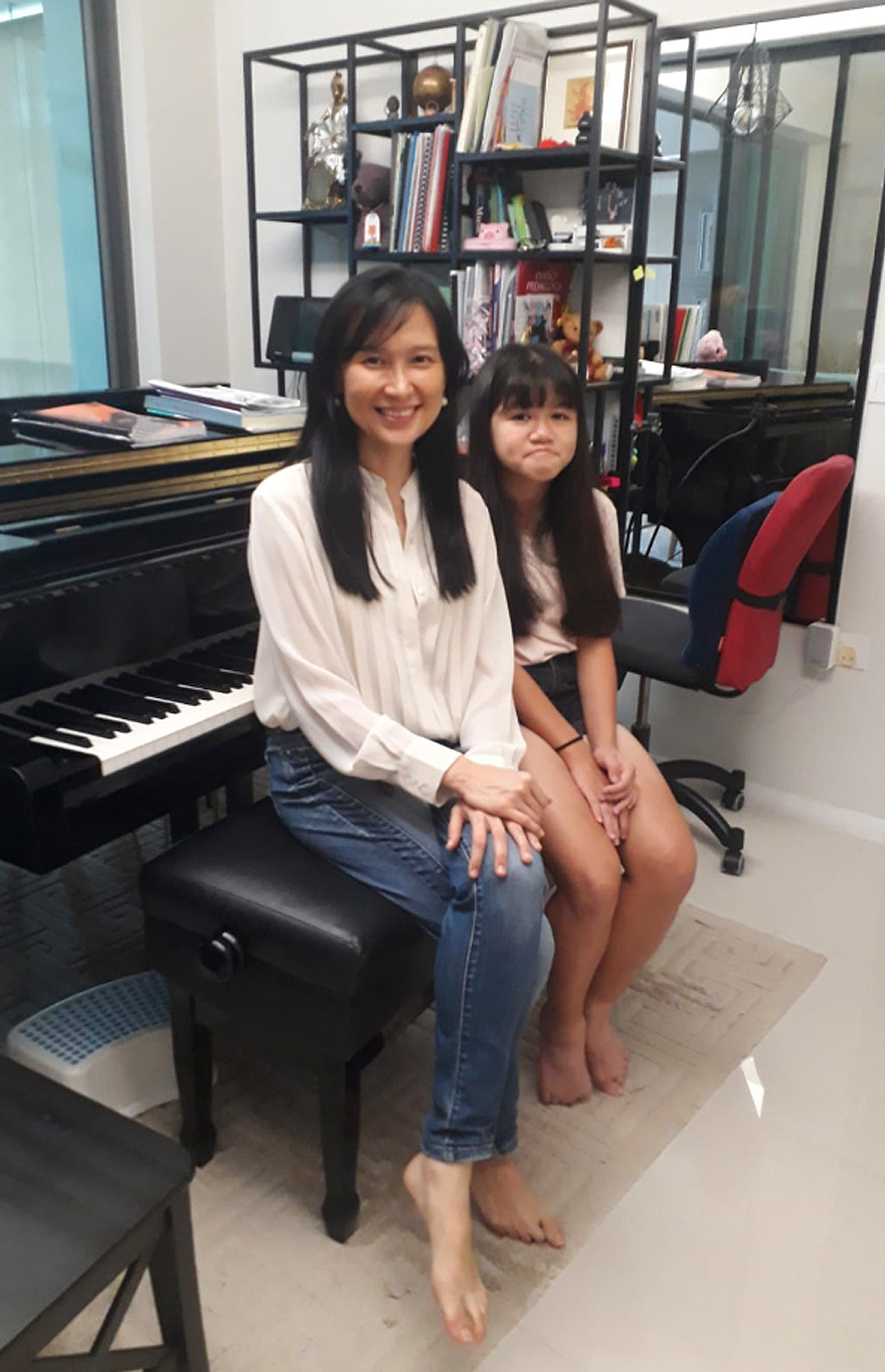 Bernice
"Teacher Vivian is a very good teacher. Through her piano lessons, I not only got to learn how to curve my fingers properly but also, the proper and finer techniques in piano playing. She can be fierce at times but only when work is not done properly. She is very patient and will take the time to explain concepts when I have difficulty understanding. Lessons with her are enjoyable and I have learnt and improved much from them. As a result, I am able to derive more pleasure with my own playing. She also organizes group lessons which have effectively helped me to cope with nervousness which I would usually feel when performing in front of others. Overall, Teacher Vivian is friendly and approachable, giving  fun and useful lessons."
Bernice
Kerri Ann Chua
"Ms Cheah is my second piano teacher. I am very fortunate that my mother had found her when I had only less than 6 months before I had to sit for my ABRSM Grade 8 Piano Examination. I made great improvement in my fingers techniques and articulation in barely less than 6 months of intensive training under her. She had helped me attained good grades for my ABRSM Grade 8 Examination.
Ms Cheah is strict and assertive but very committed and inspiring when she teaches. She uses daily examples to explain the essential techniques for classical music which makes it easy for me to understand better and hence acquire the skills faster. Even my father who is not musically trained understood her explanation.
During my preparation for DSA through music domain, Ms Cheah went the extra mile by helping me review and comment on my performance through recordings. This had helped me to get through the DSA selection programme and also earned me a place in my desired IP schools. She is also very involved in the music society and always recommends many good masterclasses and concerts for me to attend.
I would like to take this opportunity to thank Ms Cheah for her dedication in teaching me."
Kerri Ann Chua
Going The Extra Mile | Finger Work Videos
I do not believe that a good piano instructor alone is reason enough for a student's performance. Rather, I believe that it is a combination of several factors – dedication from the teacher, commitment from the student and encouragement from the parents. For that reason, I am willing to dedicate my time beyond lessons by creating videos of my own finger work exercises. I believe that they are helpful for referencing toward when students want to practice the same.
FREQUENTLY ASKED QUESTIONS
How many years of experience have you got in piano teaching?
I have been giving piano lessons since 1992, so to date, I have more than 20 years of experience.
Would you travel to teach or do you prefer the student to go to you?
I prefer that my students travel to me. This would allow me to maximize my time and conserve my energy so I can give my best when conducting lessons.
What is your approach towards teaching piano?
I believe in cultivating the student's interest in classical music and piano playing through building up a strong foundation in finger work. Achieving this will slowly but surely allow the student to take on increasingly challenging musical pieces and perform them not just at a technical level, but also at an emotive level. Eventually, the student will not just be playing music, but really conveying a moving story through the performance.
Why did you leave the academy to pursue private coaching?
The academy I was working at demands a high level of commitment and dedication from both student and parents. As a teacher of the academy, I did not have the luxury of offering  'stress-free' lessons. Yet, there are many who just want to learn how to play the piano at a more relaxed pace. So after more than 20 years teaching at the school, I decided to pursue teaching private students on a full-time basis so that I can tailor my piano lessons according to their needs – be it for knowledge enhancement, recreation or competitions.
What is the demography of the students you accept?
I mainly take in students from the ages 5 to 18. I may take on older students on a case-to-case basis.
What levels do you teach?
Practical – Beginner's Preparatory Piano, ABRSM Grade 1 to 8 and Diploma
Theory – ABRSM Grade 1 to 5
What is the duration of each lesson?
45 – 60 minutes, depending on the grade.
How much do you charge for your piano lessons?
The rates vary, depending on the level of the student. Lessons for beginners are the cheapest, while the rates increase for the more advanced students. Please feel free to drop me a message at
viviancheahpiano
through Line or email at
vivianchpf@gmail.com
 to have a discussion.
Do you give group or individual piano lessons?
At the moment, I give only individual lessons. I find that yields better results as I am able to give more dedicated attention to the student. Having said that, I sometimes bring my students together to form group performances so that they can learn from seeing each other play and perform.
Can parents sit in?
Yes! In fact, parents are encouraged to sit in so that they understand what is being taught to their children and can help them with home practice.
How are you superior to other piano instructors?
I wouldn't claim that I am superior to other piano teachers, as the musical journey is endless and I am still always learning. But I would say that I am very dedicated and most of my students have been happy with my coaching. The numerous testimonials from students and their exemplary performances in ABRSM exams and piano competitions are the best evidence to this claim.
Where do you conduct your piano lessons?
I teach from home at a condominium at the Yio Chu Kang / Seletar area.
Javier
"Teacher Vivian is a very dedicated teacher who has high expectations of her students. She will often go the extra mile to make sure that Javier understands what is required. She is able to employ both the soft and hard approach at appropriate moments to get through to Javier, an active boy who is barely six years old. She never fails to give praise when it is due. Under her close supervision, Javier has made significant improvements in terms of his technique when playing the piano. Thank you, Teacher Vivian!"
Javier's Mom
Clarrie
"Teacher Vivian is an approachable, well-qualified and committed teacher who is systematic in her teaching pedagogy. My daughter has benefited much from her piano lessons and has improved leaps and bounds."
Clarrie's Mom
Zhang Zi Zhao
"My son Zi Zhao has studied under Teacher Vivian for a few months. Over this period, I feel that Teacher Vivian pays great attention to my son. She imparts every piano technical skill in detail. She is also very open minded in listening to our feedback and will make adjustments accordingly. Teacher Vivian not only teaches how to play the piano well, but also guides my child to enjoy music. Teacher Vivian provides not only one to one coaching, but also some opportunities to perform in group classes which is good experience for my kid to build up his confidence level. Overall, my son and I feel that we are fortunate to have found Teacher Vivian as a piano mentor."
Zhang Zi Zhao's Father
A BIG THANK YOU
"I'm sure this isn't the most eloquent letter I've ever written, but I am doing this to give Teacher Vivian the tremendous recognition she deserves for how she's able to empower and engage her students.
My son, Jiaxin, now eleven, has been with Ms Vivian since six. He will be sitting for the exam of ABRSM Grade 7 in September. Frankly speaking, Jiaxin isn't all that musically-inclined. He is very fortunate to have Teacher Vivian as his piano mentor. It is not easy for a young child to understand the music work he plays in a deeper manner, as well as to present it elegantly.
Teacher Vivian is always able to find a way to inspire Jiaxin to open his young mind and use his imagination. Sometimes she uses very interesting ways to help Jiaxin to acquire the concepts. Her lessons impart onto Jiaxin a love for classical music which he will benefit from in his life. As for the technical part, Teacher Vivian is very straight forward and detailed in her explanation. Obviously, I can't speak of the experience of all students who have ever been under Ms Vivian. But I imagine their experience was very much like Jiaxin. Young kids are not easy to engage and spark, but Teacher Vivian, through her experience and professionalism, manages to do it year after year."
Please drop me an email through the contact form below or text me through LINE using the handler 'viviancheahpiano'. I may take slightly longer to respond via email. If you want a faster response, please contact me through LINE.
When writing to me, please mention the following – 
Student's age / Gender / Level interest
Thank you.